The only way to get where you are going is to know where you've been, and that means you are going to want to keep track of your earnings on OnlyFans. Luckily the platform makes it easy by providing us with these numbers.
I've created a Google Doc for you. But you want to "make a copy" of it before you start using it. Once you make a copy of the document I'm about to share with you, then you can fill it out and edit it all you want.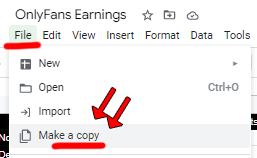 Now log into your OnlyFans page, and click statistics from the menu. This will load your earnings page.
Now click the date so that you can adjust it.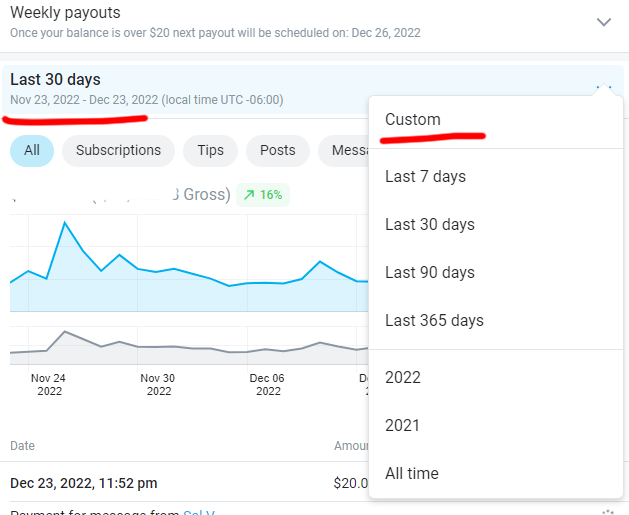 Don't select "last 30 days"; instead, select custom so that you can set a specific date period.  Now select January 1, 2022, to January 31, 2022. Yes, you want to go all the way back to the first month of the previous year.
Now the date selection can get a little buggy sometimes, so once you select a custom date of January 1, 2022, to January 31, 2022, click it again just to make sure you've got those specific dates set.
Now click the little button below the date that says "Subscriptions" and write that number down in your spreadsheet. You want to write down the bold number, not the gross.

Now what you are going to do is write down that number in your Google docs spreadsheet. This is going to tell you how much money you made for the month of January in subscriptions.
If your OnlyFans is a free page, then you won't have earned any money for subscriptions, so you can just write down 0 for the month and move on to tips, then posts, then messages, then stream, and then last but not least, you click the "all" button the one and write down how much you made for the entire month in the total category.
When you fill out the last column, how much you made in total for the whole month, the "per day" column will automatically populate. This tells you how much you made per day on average.
Now repeat this for every month of the year. Yes, you want to keep track of historical numbers. The more data you have, the more it will help you see patterns and plan out future goals.
Now you're not done. You want to jot down two more things for each month.
On the OnlyFans statistics page, scroll up above where you entered the date and look towards the top where it says "Fans."
There are two things you care about for each month … How many new subscribers you have, and how many renewals. Once you enter those two numbers for each month, the total subscriber count in your Google document will automatically populate.
If you have any questions about tracking this information please let me know and I'll try my best to help!